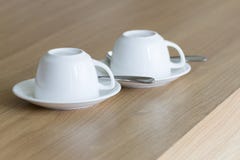 I was at a solar appointment yesterday and I came up with a little sales illustration that you might find interesting. Selling solar is really about education and clear communication. Most people think of solar as an added household expense, I was thinking of a novel way to show how solar really works.
I was sitting at a kitchen table in a nice home in the Sable Point subdivision in Wesley Chapel. There were two empty coffee mugs on the table so I turned them upside down  and took a wad of cash out of my pocket. I had filled a Balloon Distractions gig at a breakfast restaurant that morning, so I had a bunch of $1 and $5 bills.
++++++++++++++++++++++++++++++++++++
"Mr. and Mrs. Jones, let's say that this coffee mug on the left is your home with solar on the roof. Every month your payment on the solar stays here". I stacked a few dollars on the top of coffee mug on the left.
"The coffee mug on the right is your neighbor who doesn't buy solar." As I said that I took a dollar bill, crumpled it up in my hand and tossed it over my shoulder onto the floor. "Your neighbor without solar is sending cash to the electric company forever, they never see that money again, its gone, poof, wasted."  
"This is your home," (another dollar bill on the mug) "this is your neighbor" (another dollar bill tossed behind me).
"The money is going to have to go somewhere every month anyway, either back on your roof to pay off your solar, or leave your household forever when you send it to the electric company. You can either send $200 each month to the electric utility or $180 per month to pay for your panels."  
After I had done this a few times the mug on the left was stacked with dollar bills, the mug on the right was empty. There were crumpled dollar bills all over the floor behind me.
"But what happens after your solar is paid for?" I started to take the dollar bills off the mug and stack them in front of Mrs. Jones "Every month your solar panels will generate electricity back into your house, for several decades. Solar is like a permanent money machine on your roof. How many dollars will come off your neighbor's roof?"
Mrs. Jones asked me "but what if we sell the house?"
"That's a great question." I stacked the dollar bills back onto the mug on the left. "Which home would you rather buy, the home with all the dollar bills on the roof and a tiny electric bill, or the home with NO solar and a $200 per month bill?"
++++++++++++++++++++++++++++++
This was my first appointment with Mr. and Mrs. Jones. Most of my clients move forward at the 2nd meeting, so I'll circle back with them in a week or so. I ask people to buy on the first appointment, but I don't twist anyone's arm. That approach never works. I want my clients to feel confident about their purchase.
Some of the people I sit down with will buy now, some will buy in 3 months or six months or a year from now. Every month that they get an electric bill and sit down to write a check for $150 or $200 I hope they think of me.
I'm not going anywhere, neither is Tampa Bay Solar. The forward thinking consumer who buys solar is an educated buyer, the average household income of most solar buyers is between $100,000 and $150,000 per year. The price of solar is now LESS than utility electric:
There are some folks who don't like the aesthetic of panels, so they can spend $100,000 on a solar roof through Tesla, or continue to throw money at the electric company for the next 30 years. The rest of us will put panels on the roof and watch our electric bill go down to peanuts every month.
Ben Alexander
May . 2017