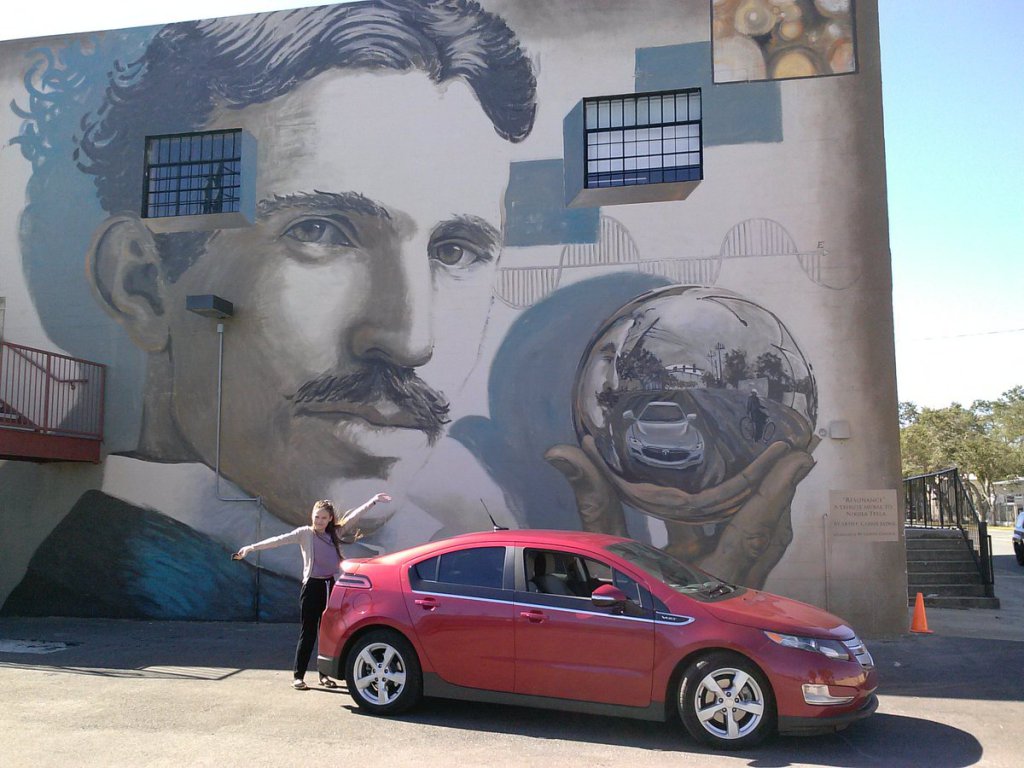 My daughter Grace is in the home stretch of her Senior year in high school. She's worked really hard and gotten great marks so I let her take a day off from school this week. She wanted to go to St. Pete, have lunch at her favorite restaurant, and check out some of the artsy stuff in that part of Tampa Bay.
There are several glass blowing studios in St. Pete, so we stopped at one and toured their gallery. They let us watch one of the craftsmen on the bench, if you've never seen anyone heat and manipulate glass check it out on YouTube. Glass blowing has been around for centuries, its one of those skills that an individual can learn and spend decades mastering.
After we visited the glass studio we stopped at a former rail station that had been converted into a clay and pottery workshop with a display space. Across the street I saw the mural above. Being a cheeseball Dad I had to take that picture….
If you've have never heard of Nicola Tesla feel free to read about him on Wikipedia. If you have never heard of the Chevy Volt just scroll down and read my posts from the last few weeks. There are several epic murals painted on buildings off Central Avenue in St. Petersburg. You have to drive around a bit to find them, here is the mural across the street from where we ate lunch:
Grace and I ate at Hawkers restaurant on Central Avenue. The prices there are reasonable,  the food is top notch. Central Ave near Rays stadium has gone upscale, there are several good restaurants and galleries in that area. If you haven't been to St. Petersburg in a few years check it out.
We drove west after lunch and got some ice cream while we walked on the beach on Treasure Island. It was breezy, maybe in the low 70's. Florida in January. The weather was just perfect on Wednesday, one of the benefits of living this far south.
This was one of those laid back days that Grace and I will remember for a long time. As she gets older I might not see her as much, and before I lose her to geography or boyfriends (or both) I want to spend as much time with her as possible.
Ben Alexander
January 27, 2017