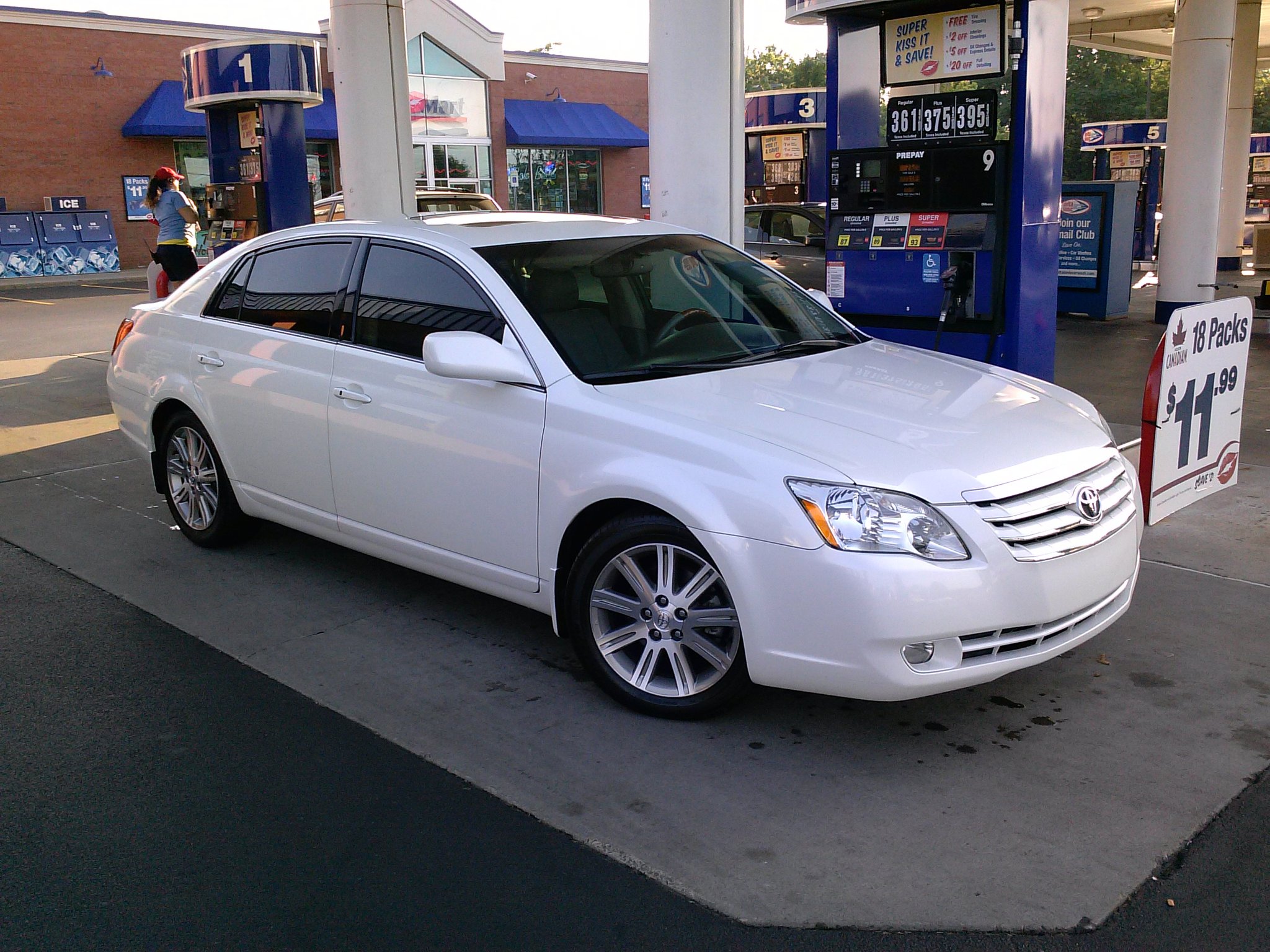 I sold Toyotas from September of 2001 to November of 2003. I was still in Toyota sales when I landed our first restaurant clients for Balloon Distractions.
Back then I always liked the Avalon, but I would never buy a new one, too expensive at $38,000.
The Avalon always came standard with the 3.5 liter / 268 HP engine that was originally developed for Lexus, but also found use in the Toyota minivan and the Camry. The Avalon was a step up from the Camry, with a huge backseat, better sound deadening in the interior, and a bunch of shared components with the Lexus ES350.
In 2012 I bought the 2006 model pictured above for just over $12,000. It had 72,000 miles on it, and the dashboard had cosmetic cracks, but other than that the car was in awesome shape. It looked like a retired guy with time on his hands had maintained it (a guy like my Dad).
The Avalon is known for being driven by card carrying AARP members, so I was the rare buyer at 37 years old.
3 years ago Toyota did a full recall on the cracked dash, replacing the entire thing at no cost to me. From 72,000 to 188,000 miles I only spent money on gasoline and tires, synthetic oil changes, a new front axle for $800, a tune up for $600 and two brake jobs for about $350 each.
At one point a teenager in a Honda hit my back bumper, so I got a new rear bumper for free as well.
When the AC on the Avalon stopped working earlier this month I looked at the 188K on the odometer, test drove a used Chevy Volt, and was pleasantly surprised when the Chevy dealer gave me 3K for my 11 year-old car.
My largest expense on the Avalon was the $12K purchase price and the additional $13K I spent on gasoline. The car was heavy with a powerful engine, I probably averaged 23 miles per gallon. On the open highway the Avalon rolled peacefully at 80 mph, the engine at 2500 rpm, barely working.
Even at 100 mph the engine was only turning 3,000 rpm!
The picture above was taken during one of my summer road trips to Rochester, New York, to work with Balloon Distraction's team in that area. This car took me all over the eastern half of the United States, from Chicago to Boston to Miami to DFW.
With big wheels, a long wheelbase and a strong engine the Avalon could roll at 80 all day, there were days when I put 900 miles on the odometer, listening to CDs on the sound system… and I felt like I had been sitting on my couch all day.
On one swing through Atlanta the battery gave out at 5AM in a gas station parking lot. I took a nap (nothing was open that early) and when I woke up 2 hours later I realized that I had been stranded across the street from a Toyota dealer!
Even with 188,000 miles on it my Avalon still looked great, I used to park it in the corner of the parking lot away from other vehicles, so it was ding free. The white paint really held up under the Florida sun, the only sign my car was 11 years old was the 2006 styling and the faded plastic on the headlights.
I found the picture above in my phone, and it inspired this post. This car was just a machine made out of metal, plastic and leather, but it took me through a 5 year period of my life that I'll never forget. Those 5 years represented a transition, I'm a different person today at 42 compared to who I was at 37. I'd like to think that I'm a better human, with less ego and more compassion today.
When I handed the dealer my Avalon keys on January 9th and drove off the lot in a Chevy Volt I felt like one era was ending and another was beginning. The Avalon was the 2011 version of myself… and the Volt represented the future, a new beginning.
The next 5 years will be amazing, a time when some of the good work I'm doing now will  come to fruition.
I'm moving towards a debt-free life, a life of freedom, a life of expanded possibilities.
Benjamin T. Alexander
January 28, 2017
2022 UPDATE:  About a month after this post was written I joined Tampa Bay Solar, and a year later I sold Balloon Distractions.
In the five years after this was written many things took place… it was INDEED a transition in my life!