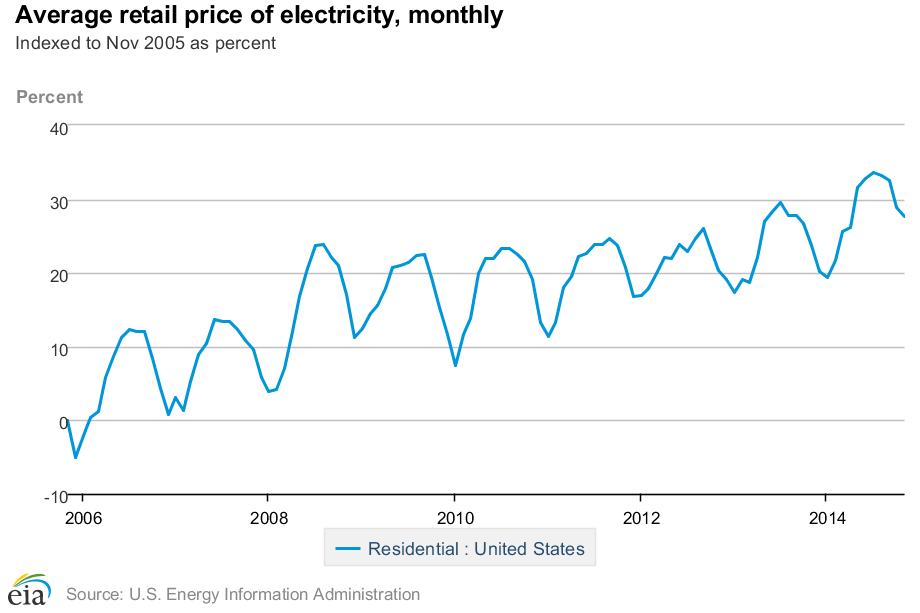 If you own a home in Florida and you don't have solar yet you might want to consider the cost of electricity over the next few years. Electric costs are going to go up in Florida, for the three reasons:
#1. 900 people move here every single day. This is why residential construction is booming in this state. In 2018 Pasco County issued building permits for $800 million dollars in new residential construction. All these people will use electricity, and the electric company will have to build additional generation capacity. Those costs will be passed along to the consumer.
#2. By 2020 there will be over 40 different plug-in electric vehicle models offered for sale in the United States. Electric vehicles use anywhere from 20 to 30 kilowatts of electricity per day… the average single family home In Florida uses 50 kilowatts per day. This means that a family with 2 plug-in electric cars could double their electricity usage. Again, this increased demand for electricity will drive up prices.
#3. On a national level 35% of our power grid is fueled by natural gas. As of 2019 natural gas prices are at the same price per therm as 1999. Part of this low price is due to the discovery of massive natural gas deposits 7,000 feet deep in the Marcellus Shale in Pennsylvania. Low natural gas prices will eventually climb, not only from global demand but also because the Marcellus Shale gas deposits are finite. As natural gas becomes more expensive so will the price per kilowatt.
So you have more people using electricity, powering up more electric cars, while the cost of making the electricity is rising due to higher natural gas costs!
These factors make solar a great option if you own a Florida home with high sun exposure on the roof. At current electricity prices your solar array will pay for itself in 7 years. Solar also increases the value of your home at resale!
No one wants to buy a home with a $300 monthly electric bill, and it looks like that will be a reality for many Florida homeowners (who don't go solar) over the next decade.
$300 per month is $3,600 per year…. $36,000 over the next decade. Most residential solar arrays are less than HALF that cost.
And I know that because I'm….
…. Ben Alexander
Director of Sales
TampaBaySolar.com